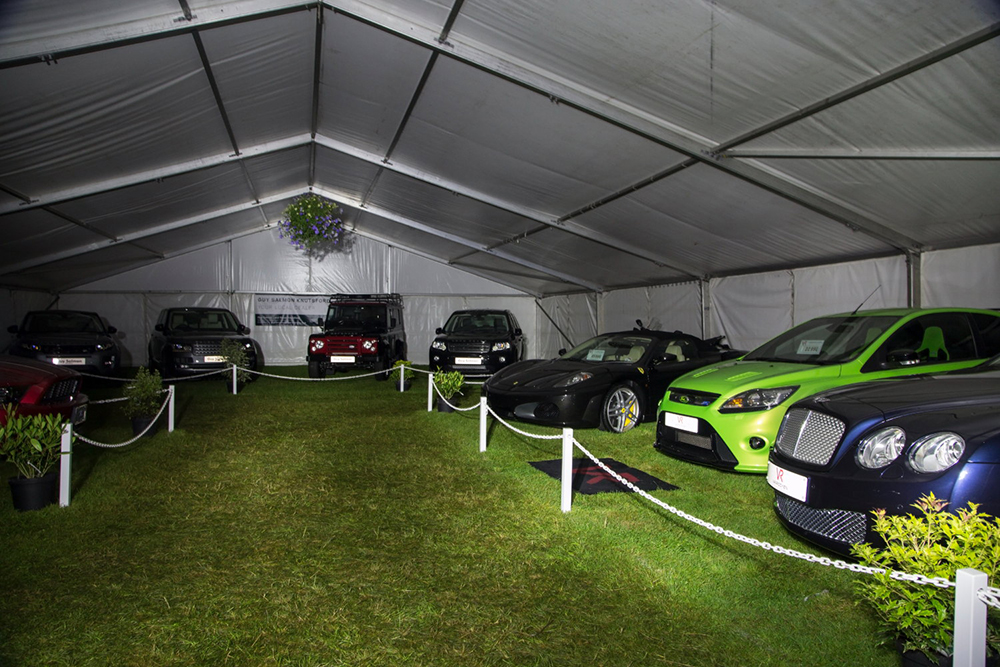 Hello and welcome to The Little Post & Chains 1st ever blog, my name is Paul Cumpsty and I am the Production Manager amongst other roles here at The little Post & Chain Company and I will normally be your 1st port of call if you phone/email with product enquires. I have worked at The Little Post & Chain Company for a little over 3 years after spending the last 10 years as a welder/fabricator so it's been quite a change going from working with steel to working with plastics. The company however, has been successfully manufacturing and selling its own range of UPVC posts and plastic chains online since 2007 and we manufacture a range of high quality plastic fence posts and chain link fencing for use in a wide range of applications such as domestic homes/ gardens and also commercial premises and public events.
This leads me to talk about the installation that can be seen in the photos below, Edd from Cheshire Auto Promotions (http://www.cheshireautopromotions.co.uk/gallerywinersnew.php) contacted me and asked if we could provide a simple to install but attractive fencing solution for the new dream cars pavilion exhibition at the 2015 "Passion for Power" classic motor show.
We discussed Edd's requirements and once we knew that this installation would be a temporary installation and only in place for a weekend then the obvious choice of post was our Temporary posts due to the ease and speed of installation and the fact that it could easily be taken down after the event had finished and then re-used at future events. We manufacture our Temporary posts in two sizes, the standard post measures 22inch above ground and a custom made post is available at 36inch above ground but in this case all Edd required was the standard posts just to guide people around the vehicles.
This order was quite sizeable with it consisting of 135 temporary posts and 225 meters of 8mm plastic chain and various accessories/spares, the good thing is these posts can be used time and time again and should you ever need replacement timber stakes or caps for any reason then they are available separately in our shop.
If you are an organiser of outdoor events and need some way of directing the flow of visitors around an event or for creating a discrete physical barrier around important or expensive items like the cars in these photos, then the Temporary posts really are an excellent and cost effect choice. We do have many repeat customers that come back year after year and just build up their stock of these posts as each year they find the exhibitions they are promoting get that little bit bigger and as the design of our posts don't change then you can be assured you will always be able to add to your collection of posts.
I hope you found this article interesting or of some use, if you have any questions about this installation or a similar one that you may be planning then please do get in touch and I'd be happy to discuss your requirements with you.